Titans Return
The Titans Return DLC was announced on 2017-07-21[1], and released on 2017-08-10[2] alongside a small, un-numbered game patch. The expansion focuses on the new Titan-class ships available within the DLC and the newly-created storyline & Free-roam scenario surrounding them.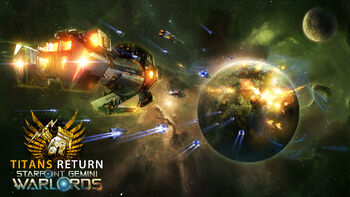 Three new Titan-class vessels for pilots to command, the Defiance, Legion, & Juggernaut, with a fourth Titan, the Prosperity, available for for everyone free in the coinciding patch
A new storyline involving the new Titan ships, which includes new conquest mechanics
A new Free-roam scenario designed for immediate Titan-ready content
New "ultimate-aura" passive abilities for each Titan ship
Ability to show off any acquired Titan vessels at Concordia with the Titans trophy system
The release of Titans Return coincided with a small, un-numbered game patch for the base game which includes some optimizations and bug fixes, as well as a Titan-class vessel to owners of the base game:
Massive stuttering reduction across the board
Additional carrier rebalancing
Programming and scripting fixes
Prosperity-class Titan added to the base game

The Prosperity is a Titan-class vessel obtainable by conducting chassis research on Concordia. Prosperity is a specialized utility & trading vessel which provides support bonuses.